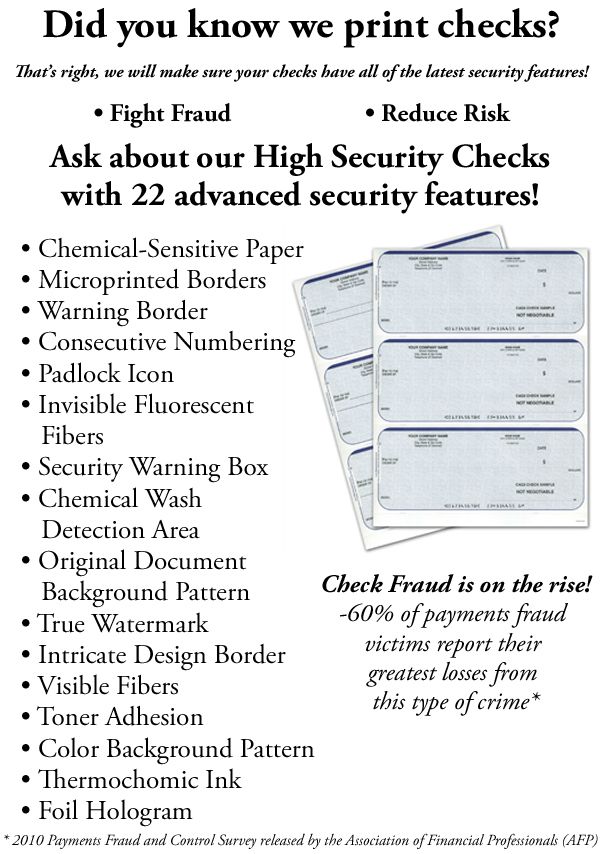 Manual Checks
3-to-a-page Checks — Offered with 5 safety and 8 premier paper options with choice of binder or simply order a 'Starter Kit' which provides everything you'll need: Checks, deposit tickets and binder.
One-Write Check Systems — All-in-one check writing system offering checks in 3 colors and helps cut your customers record-keeping time by 60%! Ongoing reorders for checks, check registers and envelopes will follow!
Voucher Checks for those preferring the flexibility to combine a check and voucher. Vouchers come in 7 standard options with carbonless transfer method.
Software Compatible Checks
Laser and Continuous Checks compatible with over 2,000 software packages! Many that support these top-selling packages:
Peachtree
Quicken / QuickBooks
Microsoft Money
Microsoft Great Plains Business Solutions
DacEasy
Sage
AccPac International And many, many more...
Banking Supplies
Deposit Tickets in many styles to fulfill your customers functional needs, all meeting the latest bank standards
Payroll envelopes
Security Deposit Bags
High-quality Bank Stamps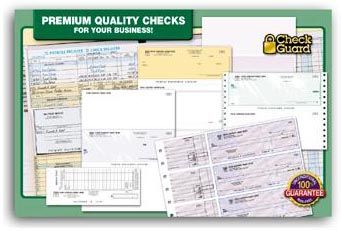 Any Questions? Give us a Call 650-377-0700
Or send us an e-mail